Children's Ministry
Introduction
At the Greenville Alliance Church, we believe strongly in God's amazing power to transform lives.  We believe that transformation is a life-long process as we learn to obey Him, serve Him and ultimately love Him.  In Children's Ministry, we strive to teach children how to allow Christ to begin working that transformation in each area of life, providing a strong foundation upon which a child can build a life-time of growth.
We have a variety of ministries, just as we have a variety of children with varied interests and gifts.  Our goal is to meet your child where he or she is, embracing their unique characters.  To reach that goal, we strive to have ministries through sports, song, drama, learning, games, and much more.  We believe each child is both special and important.  We strive to meet the needs of the children individually as well as families as a whole.
In Children's Ministry, we aim for your child to learn and grow in a fun, but safe atmosphere.  Our facilities are equipped for safety, our volunteers have background checks and clearances, our staff is CPR/ First Aid and AED certified.  We love your children and it shows!
2 Corinthians 5:17—"Therefore, if anyone is in Christ, a new creation has come.  The old has gone, the new has come!"
Warmly,
Michelle Toy
Children's Ministry Director
Sunday School
Please join us each Sunday at 9:20 for Sunday School Opening in the Sunday School opening room.  Here, the kids enjoy singing and even have the opportunity to share their musical talents in other ways, such as playing the piano for offering time.  Sunday School for children immediately follows and ends at 10:15.
Class Locations:
2-3 Years Olds – First door on left off of the Opening Room
4-5 Year Olds – Straight ahead at the bottom of the steps in the Children's Annex
1,2,3 Grades – First door on left at the bottom of the steps in the Children's Annex
4,5,6 Grades – Second door on left off the Opening Room
Nursery
Our nursery is for all children newborn through age three.  Nursery service is available on Sundays during our 10:30 worship service and Sunday School.  The nursery is also available on Thursday evenings from 6:30 to 7:30 for those attending our mid-week programming.
Volunteers: Download a Background Check Form
Our nursery is well equipped with qualified individuals who make your child feel cared for within our safe environment.  Background checks have been performed on all of our nursery workers.
Nursing mothers are welcome to use our nursing room which is located right off of the nursery.  We also have cribs in a room off the nursery for children needing to sleep.
Parents trusting their infants in the care of our loving staff are given a pager to keep with them while they worship.  If there is a need concerning your child, you will be paged.  This convenient system allows you to participate in the service with the comfort of knowing that you are just a page away if needed.
We do ask parents to be mindful during cold and flu season.  If your child has displayed any of the following symptoms within the last 48 hours, please keep him/her with you for the day. Coughing, fever, sore throat, runny nose, vomiting, eye discharge, rash, diarrhea or has a communicable disease.
Kidmo / Kinderchurch
Children are dismissed following the worship time in the service, prior to the sermon. Children age 3 through 3rd grade have their own activities where they receive the opportunity to enjoy learning in a fun, safe environment that is geared towards their age groups.
Kinderchurch is for children 3 years old through pre-k. Kinderchurch is located in the chlldren'sannex. Please go down the stairs, turnright and the Kinderchurch room is the first room on your left. Kinderchurch is active learning based where kids grow in their relationship with the Lord through teaching which includes hands-on crafts and activities. Kinderchurch is a fun place for little ones to begin to develop a solid foundation of teaching and understanding of the Word of God.
Kidmo is for children who have begun kindergarten through 3rd grade. Kidmo is located in the children's annex at the bottom of the stairs, first room on the left. Kidmo is a media geared program that speaks to children in their language. Kidmo uses contemporary formats to reach children in ways that are relevant and exciting.
Kidzone Thursdays
KidZone Thursday is an exciting ministry held every Thursday nights from 6:30 to 7:30 p.m. September through May. This powerful program aims to bring Christ to life in the lives of children. Children learn how to implement Christ's teaching into their everyday life, allowing Him to transform them and make them into all He created them to be! KidZone Thursday offers excellent teaching as well as many fun activities throughout the club year.
Derby Race
Each year, children from KidZone Thursday and from the church as a whole get the opportunity to take part in a Derby Race. Race cars are made from blocks of wood. Trophies and ribbons are awarded based on speed and on the artistic appearance of the car as well.
Talent Show
Through KidZone Thursday, the Children's Ministry holds an annual Talent Show for the children to display the gifts and abilities the Lord has given them. Click here to download the registration form.
Special Events
We also have many special events throughout the year in which children may participate. In the past, we have taken trips to the Olympic Fun Center, went on hikes, celebrated Mission Emphasis, taken children to carol at nursing homes, participated in Operation Christmas Child and much more.
Classes:
2-3 Year olds meet in the Children's Annex. Go down the stairs, turn right. The classroom is the first on the left.
4-5 Year olds meet in the Children's Annex straight ahead atthe bottom of the stairs.
1-3 Grades meet in the Children's Annex down the stairs, first room on the left.
4-6 Grades meet in the Youth Annex in the second room on the left.
Summer Ministries
When the school year winds down, we wind up at the Greenville Alliance Church!  Summers are fun and busy times here for children. There are plenty of picnics and special activities for you to enjoy all summer long as well as regular programming on Thursday evenings from 6:30 to 7:30 p.m. Many special programs are enjoyed each summer as well.  Some are:
Sports Camp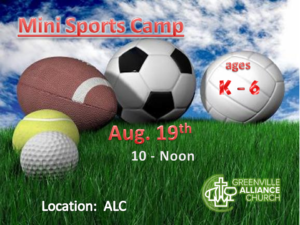 Kids who love sports as well as those not athletically inclined love Sports Camp.  Each year, coaches and trainers from the area teach a sports training camps at the church.  We are blessed to have a large gymnasium in which we may hold these Sports Camps. Children are able to learn the fundamentals of soccer, baseball, football, cheerleading, dance, basketball, etc. Children also learn how to implement characteristics of Christ on and off the playing field.
This Summer's Sports camps:
           Thursday, June 8
from
6 to 8 pm
– focusing on Volleyball and Dance
           Saturday, August 19 from 10 to noon– focusing on soccer
Meet at DQ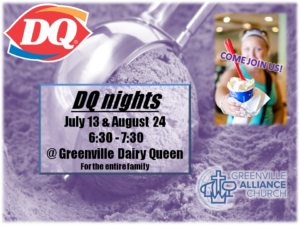 Each Summer, to build fellowship (and to enjoy ice cream) we take an outing to Dairy Queen in Greenville. It's always a well-attended fun night for kids and parents as well.
Donuts and Dabble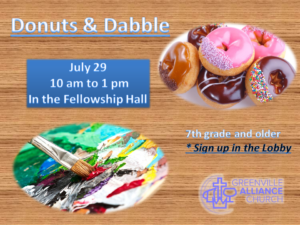 During the last day of Science Camp, teens and adults (7th grade and older) are invited to attend painting lessons!  These free lessons will be held from 10am to 1pm in the church's fellowship hall.  If you have a child attending Science Camp, we will feed your child lunch as you continue your painting lessons.
Science Camp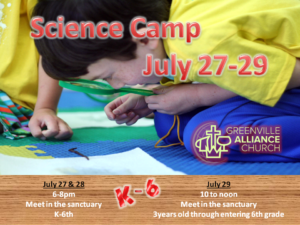 This year, we will hold a special Science Camp event for Children.  The Camp runs from July 27 to 29th.  At this camp, kids will learn fundamentals of various types of sciences as well as how Christ is infused in Science!  We will have science experiments and lots of hands-on learning.  Kids will learn about biology, chemistry, physics, earth science, creation and more!
        July 27 and 28
are from
6 to 8 pm
, for children Kindergarten through entering 6th grade.
        July 29
is from
10 to noon
, for children 3 years through entering 6th grade.
Please register by completing the following form.