Missions & Outreach
Missions Team
The Missions Committee ministry is the framework of the Christian and Missionary Alliance Church, and serves as our doctrinal emphasis on the worldwide sending and support of our educated, trained and anointed international workers.  The Greenville Alliance Church calls our local committee the GAC Missions Team.
This team oversees and plans for our Missions Conference, assists with hosting visiting international workers, and provides support to the Pastor in keeping the congregation informed about and engaged in CMA worldwide missions work and initiatives.
Contact Pastor Nathan Seckinger if you are interested in being a part of this team.
---
Projects 

---
Great Commission Women Projects
Used all-occasion cards – For International Workers in Latin America
Used eyeglasses – For use in the Dominican Republic
Cancelled stamps – Proceeds of the sale of used stamps go for Sunday School literature in Latin America
---
Salvation Army Project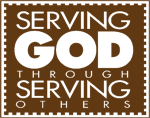 It's GO Time!
Local Community Ministry Opportunity organized by Greenville Alliance Church Deaconess Ministry.  You have the opportunity to help at the local Salvation Army by serving meals once a month.
The *dates are the first Thursday of each month from February – November.
5:00 p.m. – 7:30 p.m. (June/July/August will be 10:30 a.m. – 2 p.m.)

Anyone signing up for June, July, or August will need training.  Details will be announced.

The time you are there will include some basic prep, serving and clean up.  (The actual cooking of the meal will already be done.)
Each month at least 3 volunteers are needed, but as many as 6 are welcome.  Men, women and those age 13 and up are welcome to help.
Sign up for the month you would like to serve.
Questions – Contact Esther Loucks – 724-699-9747
Sign up in the Narthex
Parking at the Salvation Army will be in the back or on the side.